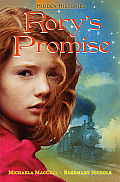 Today I'm taking part in a blog tour for a book called Rory's Promise by Michaela MacColl & Rosemary Nichols. This story, based on a particular incident that happened during the time of the orphan trains, is a great story of family loyalty, sticking up for friends, and doing what's right even when it means defying authority. I have one copy of Rory's Promise to give away. If you'd like to enter, just leave a comment below about why you enjoy reading historical fiction. Be sure to comment by midnight (PDT), Tuesday, October 7 (U.S. addresses only please).
Also, you may be interested in a few other stops on the tour:
Friday, 9/19          Kirby Larson's blog
Mon 9/22             Middle Grade Mafioso
Tue 9/23               Mother/Daughter Book Club (you're here!)
Wed 9/24             Middle Grade Minded
Thu 9/25              KidLit Frenzy
Fri 9/26                Unleashing Readers
Visit Michaela MacColl's website to find out more about her books for young readers and to see the trailer for Rory's Promise.
Now, here's my review:
At 12 years old, Rory is too old to still be in the nursery room with the young children being cared for at the Foundling Hospital in New York City. But she is indispensable to the nuns, helping to calm and care for the little ones who have been orphaned or abandoned. Rory in particular wants to stay with Violet, her five-year-old sister. When the nuns decide to adopt Violet out to a family in the Arizona territory, Rory is determined to find a way she can stay with her sister.
Rory's Promise by Michaela MacColl and Rosemary Nichols is a fictional story built around a real-life incident. Through Rory's eyes, the historical events come alive, giving readers a glimpse of life in New York City at the beginning of the 20th century and two organizations that sent orphans by train to families out west. The Children's Aid Society, which makes an appearance in the novel, took a very different approach from the Foundling Hospital, which chose appropriate families in advance of adoption.
Knowing that what the nuns and their charges faced when they arrived in Arizona actually happened makes it all the more fascinating. It also provides a glimpse into the racially charged atmosphere that existed on the frontier at the time. Rory's Promise is historical fiction at its best; I highly recommend it for mother-daughter book clubs with girls aged 9 to 12.
The author provided me with a copy of this book in exchange for my honest review.