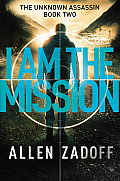 The last person anyone would suspect of being an assassin is a teen, which is why Boy Nobody is usually so successful on his missions. He goes into a situation, eliminates the target, and moves on. But he found himself getting involved with a girl on his last case, and took some time off afterward without letting The Program know where he was. His superiors aren't sure if they can trust him, so his next mission is a test in more ways than one.
It should be straightforward: get close enough to the head of a military training camp for teens to assassinate him while making it look like an accident. But when plans go awry, Boy Nobody must rely on all his training to avoid suspicion while completing his task.
I Am the Mission by Allen Zadoff is the second in The Unknown Assassin series. Like the first book I Am the Weapon (originally released as Boy Nobody), this story is likely to keep you up all night reading it. The thought of teens training with military weapons is as unsettling as the idea of teen assassins, and the scenario in I Am the Mission seems uncannily plausible. It's a thrilling read.
The publisher provided me with a digital copy of this book in exchange for my honest review.