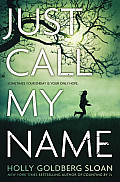 Sam and Riddle are finally feeling safe after they spent years moving from place to place with their paranoid schizophrenic father. Their dad is behind bars, and they have found a home with the family of Sam's girlfriend Emily. But trouble still dogs the boys as Emily's younger brother isn't sure he wants Riddle being part of the family and Sam struggles to become independent while proving he's worth the confidence the family places in him. Neither knows that true trouble is brewing as their father is determined to have revenge on his sons and the family that helped them.
Just Call My Name by Holly Goldberg Sloan is a fast-paced story of unconventional relationships. Sam wants to do the right thing, but since he didn't grow up with guidance from a loving parent, he's not sure he knows how to recognize what the right thing is. Emily wants to believe in Sam, but she's not sure she will ever really know and understand him. Riddle wants to make everything work out so he can catch up on so many of the things he missed when he was on the road. In the end, they will all have to dig deep to find the courage to face situations they never imagined.
I loved reading Sloan's previous book with these characters, I'll Be There, and while this is a follow up, it can be read and appreciated on its own. Just Call My Name is a satisfying continuation that delves more deeply into the main characters and their motivations.
The publisher provided me with a digital copy of this book in exchange for my honest review.