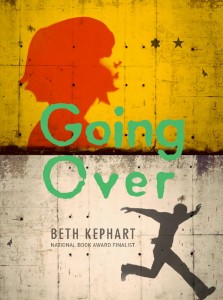 Before the Berlin wall came down, people in East Berlin were separated from family and friends in West Berlin. Although visits were allowed, moving from East to West was nearly impossible. Under those circumstance, many attempted to escape; some died trying. Beth Kephart's novel, Going Over, captures the difficulties people faced on both sides of Berlin with the story of Ada, a girl from the west, and Stefan, a boy who lives in the east.
Ada and Stefan have been friends all their lives, because when their grandmothers were young, they were best friends. When the wall went up, they were separated, but they continued to see each other on visits. Neither has an easy life. Ada lives in a tiny apartment with her mother and grandmother, works in a daycare center, and creates art by tagging the walls of buildings. Stefan lives with his grandmother, always afraid of who is listening and who is watching their actions, especially since his mother and grandfather attempted escape in past years.
The two need each other to help get through the difficulties they face. But for them to be together, Stefan must risk capture or death and go over. As the story of the two teens unfolds, Going Over paints a vivid picture of life on both sides of the wall. In the west there is prejudice against and exploitation of workers brought over from Turkey to take on menial jobs. Surrounded by East Berlin, residents of West Berlin may be free, but they can still face deprivation. In East Berlin, all forms of rebellion and dissent are not tolerated. But the story is hopeful as well. Ada and Stefan believe that people can make a difference, and they are both determined to find a way to do it.
I highly recommend Going Over for readers aged 14 and up. Members of book clubs will find a lot to talk about in the historical setting as well as issues of the human condition.
The publisher gave me a copy of this book in exchange for my honest review.