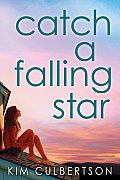 When superstar and bad boy Adam Jakes rolls into Little, California to film a movie, most girls would be thrilled to meet him. But Carter Moon is not most girls. She's focused on working in her family's café, watching the night sky with her best friends Chloe and Drake, and worrying about her brother, who has a gambling addiction.
When Adam's manager approaches her and tells her about a plan to revive Adam's image by having him date a small town girl, Carter, while he's filming in Little, she's against it. Until she realizes that the money could buy the help her brother needs to get his life together. Plus, Carter knows there's no way she could fall for someone as self-centered at Adam Jakes.
Catch a Falling Star by Kim Culbertson is a beautiful story about finding yourself, second chances, life in a small town, and branching out. One of the reasons Carter isn't impressed with Adam is because she's content with her life. But her parents worry that her lack of interest in leaving town to continue her education after high school will limit her future options.
While Carter's developing relationship with Adam is a central focus of the book, there are many interesting things happening in Carter's life outside of this that keeps the story flowing along. Culbertson provides lots of opportunities for the characters to ponder what's important in life and their place in it. Catch a Falling Star unfolds in unexpected ways that entertains all the way to its satisfying conclusion. I highly recommend it for readers aged 14 and up.
The author gave me a copy of this book in exchange for my honest review.