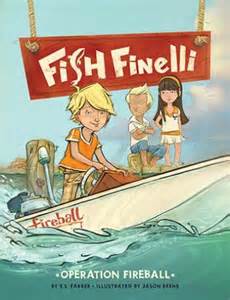 Fish Finelli is excited. He has a boat and a motor, now all he has to do it get it working in time to enter the big race in the 11-years-and under category. And the stakes are high since he pretty much promised to beat the annoying Bryce Billings. Then there's this girl, Clementine, pretty and mysterious. Fish Finelli: Operation Fireball is the second in this great series for boys that girls can enjoy too.
Fish and his friends Roger and T.J. do pretty much everything together, and together they can make anything fun, including rescuing a cat from a tree and waiting out a thunderstorm on a creepy island. Together they prove that a bit of ingenuity, hard work and sticking to the rules of a good sea captain will get them through just about anything.
Kids should also be interested in the small facts sprinkled throughout the book. For instance, Fish really likes tinkering with things and he likes inventors who did too. When he quotes Thomas Edison, who invented the phonograph, a pull0out illustration gives information about Edison and his invention. Jason Beene's drawings illustrate the narrative perfectly, adding a touch of whimsy to the words on the page.
I recommend Fish Finelli: Operation Fireball for readers aged 8 to 12.
The publisher gave me a copy of this book in exchange for my honest review.