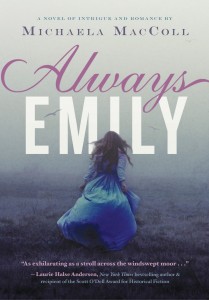 Charlotte and Emily Bronte are two of the most enduring authors in English literature. Charlotte, who wrote Jane Eyre, and Emily, author of Wuthering Heights, were no strangers to tragedy in their own lives. Their mother died young and so did two sisters. They were raised in a parsonage with their father, brother, and younger sister Anne, who also went on to become a published author.
Michaela MacColl brings these beloved authors to life, and adds a bit of mystery for them to solve, in her new book for young adults, Always Emily. MacColl draws heavily upon known facts, like Charlotte teaching at a boarding school where Emily briefly attends, to weave a fictional story that takes place on the moors, so much a part of the sisters' writing. She shows Charlotte and Emily as two very different people, often in conflict, but who nonetheless love and admire each other's strengths.
An Author's Note at the end gives a bit of background information about the Bronte family and the tragedies that befell it. Mother-daughter book clubs with girls aged 12 and up may have fun reading Always Emily and then picking up the classics by the Bronte sisters, Jane Eyre and Wuthering Heights.
The publisher gave me a copy of this book in exchange for my honest review.
Stop by tomorrow to see what author Michaela MacColl has to say about the Bronte family, her inspiration for Always Emily.