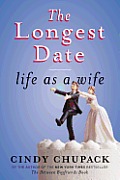 Until she was thirty-eight, Cindy Chupack had plenty of material to write about what it was like to be single. Her New York Times bestseller, The Between Boyfriends Book, scripts for five seasons of Sex and the City, and other writings were all produced drawing on her experiences. But once she got married, Chupack turned her observations on what it's like to be a spouse, and to her surprise found that all her training as a girlfriend didn't prepare her for being a wife.
With her characteristic charm and humor, Chupack has written about how she made that transition in The Longest Date: Life as a Wife. Through her candid portrayal, readers get to see both small and large issues that face the happy couple, including merging their possessions, reconciling differences in neatness, getting a (rather large) dog, and the strains of trying to get pregnant.
Chupack says one of her favorite aspects of marriage is that your partner in life can be your "partner in crime," a sort of "full-time, live-in enabler" when you both want the same things. When you don't? Then sometimes you have to be "willing to admit you're the villain" in the story. Chupack isn't afraid to lay out the details when talking about the rewards and the challenges she and her husband faced as they lived their first years together. The Longest Date is sure to strike a chord with anyone who's made the transition from girlfriend to wife, or anyone who is contemplating getting married soon.
The publisher gave me a copy of this book in exchange for my honest review.
Save