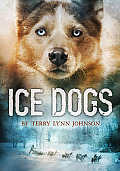 Fourteen-year-old Vicky Secord's dad taught her everything she knows about sled dogs and survival in the remote area of Alaska where she lives. But since his death a year ago, she feels lost without his guidance. Even worse, she feels she may have been able to save him if she would have been with him the day of his accident. Out on a sled run one day she comes across a teen boy injured in a snow mobile accident. When he leads her in the wrong direction to get home, they end up lost. It will take everything Vicky knows to get the two of them and the dogs safely home.
Ice Dogs by Terry Lynn Johnson is a story of courage and survival that is also fascinating for its details of dog sledding. Young readers will love the insights they get into the relationship between a musher and her dogs as well as reading about Vicky's evolving friendship with the boy she rescues, Chris. Vicky is vulnerable because she's young and doesn't have the benefit of more experience, yet she knows enough to make decisions that will get them through the direst situations.
Discussions in mother-daughter book clubs could center around being prepared for the unexpected, and making your way to safety even if you're in unfamiliar urban environments. The group may even be inspired to take a wilderness skills and survival workshop together. Also, Vicky's relationship with her mom and the difficulties they experience after her dad dies is a good topic to discuss. I recommend Ice Dogs for groups with girls aged 9 to 13.
The author gave me a copy of this book in exchange for my honest review.