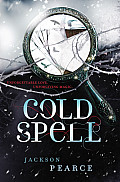 Ginny and Kai have grown up in the shadow of Kai's grandmother's fear of the cold and evil things that lurk outside her protection. They get around her disapproving glares by meeting on their building's rooftop, where climbing roses have grown to create a secret arbor where they can meet undetected.
But when Kai's grandmother dies and a mysterious woman named Mora arrives along with the cold and ice, Kai is somehow mesmerized by her. When Kai and Mora disappear, Ginny believes the answer to finding them and bringing Kai back lies in his grandmother's mysterious cookbook, which has spells and charms to ward off evil and clues to fighting the snow queen.
Cold Spell by Jackson Pearce is a modern re-imagining of Hans Christian Andersen's tale "The Snow Queen." Ginny's odyssey takes her from the streets of Atlanta north into Tennessee, Kentucky and Minnesota. Tracking Mora she follows the bitter cold that trails where the snow queen hopes to hide. In Ginny's travels she meets up with people who help her in her quest—a wealthy couple and a group of "travelers" who already know about the magical creatures Ginny is only just learning of. The cold Pearce describes has a tendency to get into your bones, so you may want to keep a cup of hot chocolate handy to warm yourself up as you read.
The story addresses issues of love, tenacity, courage, finding friendship in unlikely places, and having the strength to be yourself. I recommend it for mother-daughter book clubs with girls aged 14 and up.
The publisher gave me a copy of this book in exchange for my honest review.