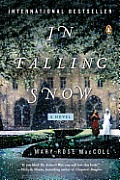 When Iris gets an invitation to attend a special dedication to the women who worked at a hospital in France sixty years before during World War I, she begins to remember her life there and events she would rather forget. She wants to attend the event, but her granddaughter Grace is worried about Iris's health. Through flashbacks of Iris's memories from those days and everything that has happened since, a remarkable story emerges about love, determination, war, and more.
In Falling Snow by Mary-Rose MacColl looks beyond the trenches to the people in the background, those who treated the men who were wounded at the front. Inspired by the true story of women from Great Britain who operated a hospital in northern France, the story looks at all the obstacles women of the time faced. Held in contempt by some men as being obviously inferior, particularly the female surgeons, they have to work harder to prove themselves and achieve what they want. Many of the women are also suffragists, seeking the right of women to vote.
The novel brings the historical events to life, allowing readers to feel the conflict of the times. It also shows that men suffered from constraints put on them too, as they were expected to uniformly be brave and follow orders when facing unspeakable conditions in the field.
Juxtaposed against that is the story of Iris's granddaughter Grace, who as a female surgeon in the 1980s has had more opportunities than the women who helped pave the way for her achievements, but in many respects is still held back by a system that keeps men in positions of power. It also examines the interplay between women's responsibilities at work and how it affects the time they spend with their children.
In addition to the historic role of women in medical fields, In Falling Snow brings up other topics for book clubs to discuss, including the reason for and wisdom of keeping family secrets, the stresses placed on families when both parents work, and dealing with aging parents and grandparents. MacColl brings all the elements together to tell a story that is both interesting to read and informative. I highly recommend it.
The publisher gave me a copy of this book in exchange for my honest review.