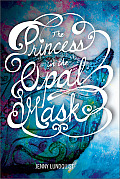 Abandoned as an infant, Elara has been raised in the countryside by the Ogden family, who has tolerated and used her as a servant in exchange for the money they receive from the Royal Orphanage for her upkeep. When she gets the chance to travel to the royal city of Allegria for the princess's 16th birthday, she knows she won't be going as a guest at the ball.
Wilha is the princess in the opal mask. Her kingdom of Gallandria is known for it's opals, and she's been made to wear a mask studded with the jewels every day of her life. Wilha is obedient, but no one pays her much attention until her father betroths her to the prince of a neighboring kingdom to seal a peace pact.
The lives of the two girls intersect in a way that neither could have expected when they are thrust together on the princess's birthday. Not knowing or trusting each other, they nevertheless have to rely on each other as they find themselves playing unfamiliar roles and fighting for their lives as well as the peace of their kingdom.
The Princess in the Opal Mask by Jenny Lundquist presents an elaborate world full of secrets and court intrigue as well as a bit of romance. Told in alternating chapters with the voices of both girls, it captures the longing they feel to be in control of their own destinies. There's also a bit of mystery built in as the girls work to discover just who may be working against them.
This first in a two-book series for young adults is a great introduction to a world that has elements of the familiar and of fantasy, and it ends with just enough of a cliffhanger to bring a satisfying conclusion to this story while whetting your appetite for the next. I recommend The Princess in the Opal Mask for mother-daughter book clubs with girls aged 12 and up.
The publisher gave me a copy of this book in exchange for my honest review.