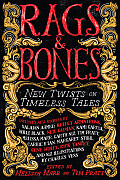 One of the hallmarks of a classic tale is that it can inspire other writers to update it and bring a new perspective on the message it conveys. You'll find a whole lot of great examples in a new collection called Rags & Bones: New Twists on Timeless Tales. Edited by Melissa Marr and Tim Pratt, you'll find stories by well-known authors like Garth Nix, Neil Gaiman, Kami Garcia, Margaret Stohl and others. In each case, the author of the tale has taken a classic, such as The Monkey's Paw by W. W. Jacobs, Sleeping Beauty, and E.M Forster's The Machine Stops, and reimagined it in a fresh way.
Following each tale is a note from the author talking about the original piece and why he or she was inspired to adapt it. Many of the tales take place in a future where sickness or advances in technology and science has changed the way humans live and interact. All of the writers are good at weaving a spell around the reader, drawing him into a new world. Many stories are deliciously dark, while some are more lighthearted or cautionary. While every tale will not resonate with every reader, there will be plenty for most to like. And don't be surprised if you find yourself looking for the original of a story you particularly like from this collection. Be prepared to immerse yourself in the pages of Rags & Bones once you start reading; it's a hard book to put down.
If you'd like to win your own copy of Rags & Bones, just leave a comment here about what intrigues you about this collection. Comment before midnight (PDT) Friday, October 25 for your chance to win (U.S. street addresses only please.) Please note: the giveaway is closed. Congratulations to Marty on winning.
The publisher gave me a copy of this book in exchange for my honest review.