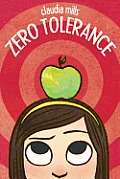 Yesterday, I shared thoughts from author Claudia Mills about the mother-daughter relationship in her book, Zero Tolerance. Today, I'm featuring a review of the book as well as the opportunity for one reader in the U.S. to win a copy. To enter, just leave a comment below about ways mothers can be supportive of their daughters without being controlling. Comment before midnight (PDT) on Friday, September 27. Please note: the giveaway is closed. Congratulations to Jody on winning.
Sierra Shepard is a seventh-grade honor student who likes school and recognizes the need for rules. She can't understand how some people have so much trouble toeing the line until the day she accidentally brings her mom's lunch to school instead of her own. Inside is a paring knife—definitely forbidden as a possible weapon. When she turns it in immediately, she's shocked to find herself marched to the principal's office, put on an in-school suspension and scheduled for an expulsion hearing. Suddenly Sierra's perfect life is crashing around her and she gets a new perspective on—and possibly a better understanding of—the kids who are known as rule-breakers.
Zero Tolerance by Claudia Mills brings up a good issue for mother-daughter book clubs to discuss: should rules put in place to protect students be flexible in the way they are enforced? Sierra's fortunate in that her dad is a lawyer so he is able to create a case for her defense. But as Sierra finds out, students whose parents aren't influential or comfortable with challenging authority are more likely to be severely punished. And when Sierra's dad threatens to pull out something embarrassing to the principal if he won't back down, she finds herself wondering if it's okay to do something wrong if you know it will help you win.
Sierra's newfound perspective on her friendships, crushes, principal, his secretary and even her own parents provide even more topics to discuss in mother-daughter book clubs. I recommend it for groups with girls aged 9 to 13.
The publisher provided me with a copy of this book in exchange for my honest review.