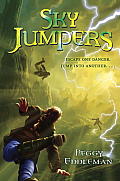 After World War III survivors created the town of White Rock in the crater formed by one of the "green bombs." Now everyone in town bands together to invent new things that will enhance their everyday lives as well as treat them for new diseases. Hope stinks at inventing, and she's always being chastised for taking risks that others avoid. But her courage may be just the thing that saves the town when bandits from outside attack and attempt to steal the medicine the townspeople need to survive.
Sky Jumpers by Peggy Eddleman is a post-apocalyptic story that's great for younger readers, ages 8 to 12, because it offers lots of adventure and thrills without being too dark. People after the war have mostly carved out a good life for themselves, even if they have to work hard to continue improving on the things they have. Hope and her friend Aaren complement each other well: one is good with books, math and inventions, and the other is good at thinking quickly on her feet. A third friend, Brock, has other skills to offer.
While I believe the title is a bit misleading because sky jumping is not the main focus of the book, I still recommend it as a good story that highlights friendship, fighting against the odds, seeking to find your hidden talents, and going on an adventure. Also, it seems that the book is the first in a series, so sky jumping could be more of a focus in subsequent books. I would definitely check out the next book in the series.
The publisher provided me with a copy of this book in exchange for my honest review.