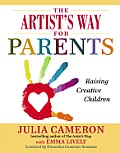 For years millions of readers have discovered how to be more creative by reading Julia Cameron's The Artist's Way. But many readers who are also parents pushed Cameron for more, asking how they could apply her thoughts on creativity to raising their children. Cameron proves she is equally at home with parental as well as personal advice in The Artist's Way for Parents: Raising Creative Children. I have one copy to give away to someone in the U.S. You'll definitely want to comment for a chance to win a copy of this book. Just make sure you say something about how you like to be creative by midnight (PST), Monday, October 14 for your chance to win. Please note: The giveaway is closed. Congratulations to Christina on winning.
Straightforward and easy to read, The Artist's Way for Parents is not a primer on teaching your children how to create art. Rather, it talks about all the ways to bring creativity into their lives. That includes things like making music, dancing, writing, singing, painting and more. Cameron makes the point that too much activity is the enemy of creativity, because to a certain extent creativity blossoms with less structure.
Each chapter focuses on a particular quality to cultivate that creativity: safety, curiosity, connection, self-expression and inventiveness are just some areas of focus. Little boxes provide exercises designed to help get the message across. For instance, the chapter on cultivating safety suggests an exercise to heighten downtime. In it, readers are encouraged to write down ten "Frivolous" things that make them happy but that they don't believe they have time to do.
Cameron says, "The act of spending time doing something we want to do as opposed to something we have to do takes courage." She also believes dedicating 15 minutes a day to something we want to do can make a big difference in how we feel about ourselves.
Reading Cameron's advice is like having a trusted friend share with you ideas on how to improve many areas of your life so you can guide your children. She uses many examples, including some from her own parents, some from the way she parented her daughter, and others from her students. She also covers some surprising territory, like the way that dreaming of fame and encouraging perfection can stifle our creative energy.
The Artist's Way for Parents is one you'll want to read and keep on your shelf for reference over and over again. I highly recommend it.
The publisher gave me a copy of this book in exchange for my honest review.