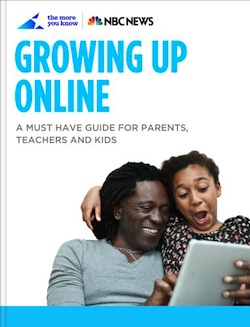 As parents, we may think we know about our kids' relationship with digital devices. Yet, our relationships with computers, the Internet, smart phones, e-readers and more will always be different than what our children experience simply because they are growing up using these devices. As technology changes so rapidly, it is also difficult for us to fully know both the dangers and the benefits unique to children.
That's where a free, interactive eBook on digital literacy and Internet safety can help. Produced in collaboration with NBC News, Growing Up Online is designed for parents, teachers and kids. In this easy to read guide, parents can find out definitions for some commonly used terms that they may or may not be familiar with, such as a digital fingerprint (the record of sites you visit online), and digital natives (that's what our kids are).
Why is a resource like this necessary? Just the same as when parents read and talk about the same books as their children do can open lines of communications, so can talking about how kids are using technology. Issues addressed that can lead to good parent/child communication include cyberbullying, online privacy, and more.
It's easy to get a copy. Growing Up Online is available as a free download on Apple's iBookstore for iPad and iPad Mini, Barnes and Noble's Nook Tablet, Amazon's Kindle Fire, Kobo, as well as online for desktop and laptop viewing at www.themoreyouknow.com.