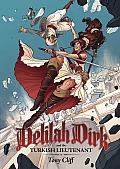 Selim is a lieutenant in the sultan's army in early 1800s Constantinople. He lives a quiet, simple life until the day Delilah Dirk shows up in the sultan's dungeon. While questioning her he discovers she claims to be a fearsome fighter, with deeds to her credit around the world. When she escapes, the sultan believes Selim had something to do with it, and he orders them both to be killed. Delilah frees Selilm and takes him along on her adventures.
Delilah Dirk and the Turkish Lieutenant, a graphic novel by Tony Cliff, mixes humor and adventure as it follows the two main characters on their exploits around the sultan's empire and beyond. Delilah is fearless while Selim is a bit bumbling and overly trusting. But Delilah thinks he makes the best tea in the world, and that is her excuse for bringing him along with her. As they get to know each other their friendship deepens even as Selim's skills grow. When faced with the opportunity to return to his quiet life, he must decide what is more important to him.
Cliff's illustrations portray Delilah as carefree, confident and capable. She and Selim are both likable in different ways, and the places they travel are exotic. It's fun to follow along as they get into and out of trouble again and again
The publisher provided me with a copy of this book in exchange for my honest review.