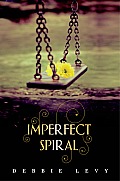 When a tragic accident takes the life of the 5-year-old she is babysitting, Danielle is pulled into issues beyond her control. Everyone seems to want the accident to be about something else—poor lighting on the road, lack of a safe place to walk, illegal immigration—but no one wants to focus on Humphrey, and who he was as an individual.
As she grieves for the little boy she loved, she also finds herself reconnecting with old friends and making new ones. Everyone, friends and neighbors see her as a symbol of something. While she resists their efforts for a while, soon she finds she can have an impact if she just finds her voice and learns to speak out.
Imperfect Spiral by Debbie Levy looks at the ripple effect an accident can have on a community. The parents, the ones most affected, are the ones least heard from as they grieve. Danielle (Danny) struggles with guilt even though everyone assures her it wasn't her fault. She doesn't like being the center of attention, and she seizes up with panic attacks when she is expected to speak in public.
When she finds a new friend who will let her talk about Humphrey and everything he meant to her it's a relief, until she finds out he has a stake in the issues raised from the accident as well. Finally she discovers that unless she speaks for herself, it's just too easy for those around her to impose their own views on her. It's a good message for anyone to take in, regardless of the issues they may be facing.
The publisher provided me with a copy of this book in exchange for my honest review.