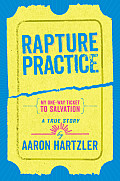 Aaron Hartzler grew up in Kansas City as the oldest son in a strict Baptist family. From early on he was happy to help as his mom spread the word to neighborhood children about the rapture, when Jesus would return to Earth and his followers would be lifted up. Yet, he also questioned the constraints he lived under. He wasn't allowed to see movies, listen to most music or read books that his parents questioned. He couldn't believe that his grandparents, aunts, uncles and cousins—who had no such restrictions—would go to hell for their actions.
As Hartzler grew, he began to rebel against the tight rules his parents asked him to adhere to without question. He writes about his experience, and his efforts to maintain a relationship with his parents while finding his own path toward religious belief in his memoir, Rapture Practice.
Hartzler writes with candor about the Christian school he attended when he was growing up, the friendships he formed there, and the ways he got around his parents' rules. This is his story, which means he doesn't speculate about or describe how his brothers and sister reacted to the same rules as he did or tell scandalous stories about teachers and administrators. He seems to accept the fact that some people do well with the rules he was subject to while sharing the reasons he wasn't one of them.
Rapture Practice is a thoughtful story about Hartzler's journey, and while I would have liked to know more about how his decisions affected his relationship with his family as he became an adult, I was thoroughly engrossed with story.
The publisher provided me with a copy of this book in exchange for my honest review.