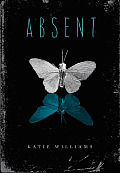 Paige died when she accidentally fell from her high school roof. Now she's stuck in place, able to move around the school grounds and in the building, but her spirit can't pass the parking lot. At least she has friends: Brooke and Evan, two other teens who also died while at school.
But when Paige overhears a rumor that she committed suicide she can't let it rest. She finds a way to inhabit her classmates and control what they say, hoping to stop the rumor. In the process she discovers surprising things about the people she thought she knew when she was alive.
Absent by Katie Williams explores the dynamics behind fitting in at high school and how easy it can be to pigeonhole people into stereotypes. When Paige starts talking through her classmates, she shakes things up, because she forces everyone to look at the person, not the image they portray.
There's also a bit of mystery in the story, which Paige unravels as she puts pieces of the puzzle together from each of her former classmates and friends. Absent is a thoughtful tale that may even prompt you to question the assumptions you make about people you know.
The publisher provided me with a copy of this book in exchange for my honest review.