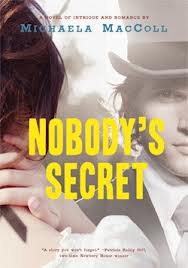 A young Emily Dickinson is daydreaming in the woods near her home when a handsome young man interrupts. She's never seen him before, yet when she asks his name he tells her he's nobody. The air of mystery deepens when she sees him in town and he still won't say who he is or why he's visiting Amherst, but he hints at family crimes. The next day Mr. Nobody ends up dead in her family's pond, and Emily suspects foul play. She sets out to discover who Mr. Nobody is and why he died.
Nobody's Secret by Michaela MacColl is part mystery, part historical fiction and entirely enjoyable. MacColl paints a picture of the teen poet as headstrong, always looking for ways to avoid housework, curious and tenacious. She knows what's expected of girls in her world, yet she's not afraid to push society's rules.
MacColl meticulously researches the subjects of her historical fiction—in other books a young Queen Victoria in England and aviatrix Beryl Markham—and the details she discovers about her characters helps her create nuanced portraits that make them human. She weaves facts about Emily and the Dickinson family into her story easily, and helps readers see what everyday life for her may have been like while keeping the mystery moving along.
As Emily works to solve the mystery of Mr. Nobody's death, she makes poetic notes about her discoveries, and it's fun for readers to imagine her creating full poems from those notes. She also reads a contemporary poet, Walt Whitman, and focuses on the natural world around her.
Nobody's Secret is fun to read and can generate discussion and activities for mother-daughter book clubs with girls aged 12 and up. Activities include reading Emily Dickinson's poetry, learning more about her life in Amherst and writing poetry in her style. Discussions can center around what life was like for women in her times and the mystery itself. I highly recommend it.
The publisher provided me with a copy of this book in exchange for my honest review.