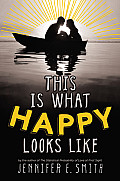 What Graham believes is a simple email to his pet sitter is actually the beginning of a relationship with Ellie, who gets it by mistake. The teens live on opposite sides of the country, he's in California she's in Maine, and they believe they will never meet. But Graham happens to be a popular teen movie star, and when he chooses Ellie's small town in Maine as the location for his next film, the two finally come face to face. The trouble is, photographers are always following Graham, capturing every person he's interested in. And Ellie has a reason not to be in the limelight.
This is What Happy Looks Like by Jennifer E. Smith takes a familiar storyline, celebrity meets regular person who they can really be themselves with, and turns it into something fresh, interesting and fun to read. Graham's rise to stardom is recent, and he finds that living the celebrity life can be lonely. Ellie lives alone with her mother in the small town they fled to when a scandal drove them away form her father. When they meet, they feel as though they know each other well, yet, they also feel like strangers.
There aren't a lot of surprises as their relationship unfolds, and they hit a few rough spots along the way, but its fun to go on the journey with them. Mother-daughter book clubs with girls aged 14 and up who choose This is What Happy Looks Like will find several issues to talk about: online safety, keeping secrets, relationships between parents and children, and more.
The publisher provided me with a copy of this book in exchange for my honest review.
Save