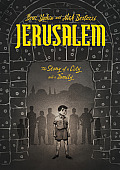 Jerusalem was often a time of chaos and conflict during the years the state of Israel was being established in the 1940s. Communists, Zionists, Jews, Arabs, and British soldiers were mixed into a boiling pot that pitted brothers against brothers and race against race.
Graphic novelists Boaz Yakin and Nick Bertozzi have sought to capture those unsettling times through the lens of one family: the Hallabys. In their novel, Jerusalem: A Family Portrait, they introduce readers to brothers Izak and Yakov, the patriarchs, estranged from each other over past differences. Izak and Yakov's children are caught up in their personal war, as well as in the larger conflict that swirls around them.
Izak's adult sons are a reflection of the myriad forces at work. Two of them fought with the British army in Europe during World War II. One would like to see Israel become Communist and cooperates with Arabs who feel the same, another fights with Jewish rebels. Everyone suffers privation and shortages during the most difficult times.
Each family member has a different perspective, and through their eyes the larger tale unfolds. While this is fairly recent history, it also seems to be not very well known or understood. The authors provide background in an introduction that provides a map of the British Mandate Palestine in 1945, a brief history of the city of Jerusalem beginning with the Ottoman takeover in 1517 until 1939, and a personal history of the Hallaby family. The stories are based on the experiences of Yakin's own family, who lived in Palestine during this time.
As with any good graphic novel, the images tell so much of the tale, and such is the case in Jerusalem. The fighting, confusion, suffering, and turmoil leap off the pages, as do small moments of joy and triumph that sometimes shine through. I recommend it for anyone who loves history.
The publisher provided me with a copy of this book in exchange for my honest review.