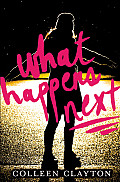 Sid feels like a freak among her fellow high school students. She's tall, she has red hair that refuses to be tamed, and she's got a large bust and a bubble butt that bring her attention she doesn't want. So when she meets a guy who seems really into her as a person while on a school ski trip, she ignores her usual good sense and sneaks out to a party he's invited her to. Turns out Sid's the only one there, and when she wakes up the next morning in the guy's bed, she can't remember what happened the night before.
Afraid to tell anyway that she thinks she was raped, Sid blames herself. To push past the pain, she decides to lose weight and get rid of the parts of her that stick out. But she finds out that exercising to the extreme, and bingeing and then purging on food won't help her forget what happened that night.
What Happens Next by Colleen Clayton is a painful look at how teens can blame themselves for bad things that happen in their lives and the negative consequences that blame brings. Sid's been teased about her looks for years, so she was particularly vulnerable to a sexual predator who showed her positive attention.
Also, like a lot of girls she doesn't want to cause trouble for her friends or her mom, so she doesn't speak up about what happened to her. Instead she withdraws into her own world where she believes she has control. She knows the bingeing and purging is bad for her, but she feels powerless to stop it. It's not until she learns to trust a boy in her school who is also an outcast and experiences a normal relationship that she begins to slowly build up to where she can trust again.
Mother-daughter book clubs with girls aged 14 and up will find a lot to discuss in What Happens Next. They can talk about how girls can keep themselves safe when going to parties or meeting new people that they don't know anything about. They can talk about the concerns that keep girls from telling others when bad things happen to them and how those concerns may be addressed. They can also talk about how parents may be able to help when they notice something is different about their teens. I highly recommend it.
The publisher provided me with a copy of this book in exchange for my honest opinion in this review.