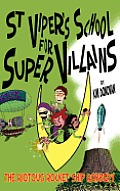 Demon Kid has a lot to live up to. His dad, Demon King, is a well known super bad super villain, and Demon Kid would like nothing better than to follow in his footsteps. So he's excited to be headed off to his first year at St. Vipers School for Super Villains, where he not only hopes to harnass his powers but also to meet other kids like him
He's happy to make other friends right away, including a girl who can stretch her body over long distances, a boy who can shrink himself to the size of an insect and a wolf boy. Their talents help complement his ability to throw fire. But the talents of Demon and his friends are no match for the seniors at the school, who start to pick on the younger students right away. It's only when Demon gets a chance to "out bad the baddies" that he begins to think he may make his dad proud.
St. Viper's School for Super Villains: The Riotous Rocket Ship Robbery is the first title in a new series by Kim Donovan that should appeal to young readers with an interest in adventure. St. Viper's is like the evil twin of a Hogwart's-type school, where kids with superpowers who want to use them for evil purposes train and get better at what they do.
St. Viper's turns the concept of good guys and bad guys on its head, as all the students are supposed to be "bad guys," yet in many ways these kids are just like any others: they want to do well in school, they want to make their parents proud, and they want to show up the bullies who make their lives miserable. It just so happens those things mean something else in this school than it would in others. St. Viper's is fun to read and I recommend it for readers who enjoy the Captain Underpants series and other adventure books for ages 8 to 12.
The author provided me with a copy of this book in exchange for my honest opinion in this review.