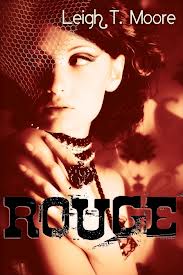 Hale loves to sing and perform in the theater in New Orleans where she grew up, but the time is coming for her to leave. She understands how the other women earn their keep by taking gentlemen into the back rooms after the shows. Even though she's a star, and Gavin, the owner, promised her mother he'd look after her, Hale knows she can't go on this way forever. And she's got Teeny to think of. Teeny who's still a child but will soon be a woman. And since Teeny can't act or sing, there's no way for her to earn her keep.
Yet the options for women are limited in the New Orleans of the late 1800s. Hale believes the only way she can find stability is to marry a rich man, Freddie, who claims to adore her. Hale knows she should encourage his affection, but she's not sure she wants to when her heart longs for another.
Rouge by Leigh Talbert Moore paints a picture of the on-the-edge life many girls and women faced in the 19th Century when they didn't have family or friends to raise them and help them to marry. Hale can't go out to find work on her own, and she can't seek a place to live without an income. Her position is even more precarious because in most cases true gentlemen would reject a performer.
Hale has conditioned herself to believe she won't find happiness when she moves on to a better situation, but once she falls in love she begins to hope she can find a way to leave and be happy too. There are scenes of sexual violence, but it should be fine for older teens aged 16 and up.
I enjoyed reading about life in New Orleans and in the theater during this time period. While the story line is similar to the one in the movie Moulin Rouge, the characters and their motivations are somewhat different. I particularly liked Roland as Hale's friend and the mystery of Hale's parents. While I would have been happier if the book had moved along at a faster clip, I look forward to picking up Hale's story again in the sequel.
The author provided me with a copy of this book in exchange for my honest review.