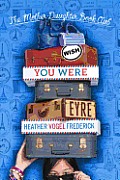 I don't read many continuing books in a series for review on this site. My review philosophy is that if the first book in a series is strong enough to stand on its own, then it's a good choice for book clubs to read and discuss while letting individual members decide whether to continue with the series.
I occasionally make exceptions and the six-novel-strong The Mother-Daughter Book Club series by Heather Vogel Frederick is one of those. How could I not read a fictional series about the very real life topic I dedicate this site to? And yet, I may not have continued if Frederick hadn't made it so easy for me to fall in love with her characters and want to continue to read their stories book after book.
With the release of the last book in the series, Wish You Were Eyre, I am sure I will not be the only reader conjuring up images of what happens next with Emma, Jess, Megan, Cassidy and Becca as well as all their families. Alas, "next" will have to remain in my imagination.
That desire to follow characters through to the next step in their lives is the mark of a great series and a skilled writer who can bring the people in her stories to life. In all honesty and disclosure I have to say that I have come to call Heather Frederick a friend over the years she has been writing this series, but I certainly would not have continued to read and review them if I didn't believe they were a great choice for mother-daughter book clubs and young readers everywhere.
Frederick manages to capture the daily issues that pre-teens and teens may face while also giving readers things to hope for and dream about, like international travel, successfully identifying passions for careers, starting businesses, and more. She has a skill at helping her characters speak up for themselves and solve their problems, even if they stew in them for a while. Her latest installment and last book in the series, Wish You Were Eyre, is another delightful example.
Once again Frederick weaves the reading of a classic novel, this time Jane Eyre, into the story line of her modern-day girls living in Concord, Massachusetts. There are problems to be solved, misunderstandings of other people's actions and intentions, and strained mother-daughter relationships to be found for sure. But you will also find different characters of all ages exploring what it means to be in love, supporting their friends, exploring new adventures and more. It's a satisfying finale to a beloved series.
The author provided me with a copy of this book in exchange for my honest review.