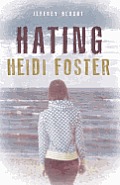 Mae McBride's life comes crashing down around her when her father dies while rescuing her best friend from a burning home. Bereft of anyone to talk to except her mom, who is dealing with her own grief, Mae shuts down and forces the pain away by nurturing her hatred.
She hates her dad for putting someone else before his family, and she hates her friend for not rescuing herself. Heidi spirals down into depression, as she feels responsible for Mae's dad's death. A startling discovery may help the two friends heal each other.
Hating Heidi Foster by Jeffrey Blount is an unflinching look at grief, guilt and the fortitude that it takes to move on after a tragedy. Mae learns that while she wants to move on with her life, and her mom seems to be emerging from grief, everyone deals with loss differently and nothing can rush the process.
Blount deals gently with his characters, taking them through the darkest times to emerge into brighter times. The emotions they experience are sometimes surprising. For instance, it's expected that Mae would blame Heidi for what happened, but it's also unexpected, yet feels very real, that she would also blame her dad. Young adults reading this novel can talk about the nature of friendship, family and the strength of the ties that bind those together.
The author provided me with a copy of this book in exchange for my honest review.