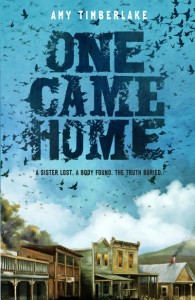 Today I'm excited to feature a new historical novel by author Amy Timberlake. It's called One Came Home, and it tells the story of a 13-year-old Wisconsin girl's quest for the truth during a crisis in her family in 1871. I really enjoyed reading this one, and my complete review is below. Also, I have one copy to give away to a reader in the U.S. or Canada. Just comment before midnight (PST) Tuesday, January 29 and say what you like about historical fiction.Please note, the giveaway is closed. Congratulations to Andrea on winning. Also, look for Amy Timberlake's very interesting essay about imagining passenger pigeons to appear immediately after this review.
Review: One Came Home by Amy Timberlake
Lately it seems most of the books I have been reading for young readers ages 9 to 12 have taken place in modern times and dealt with modern issues. Which is one of the reasons why I was happy to pick up One Came Home by Amy Timberlake, a historical novel set in Wisconsin in 1871. Timberlake's tale reminded me of what I like so much about stories set in other times—their ability to transport me to an age that no longer exists and learn about what life was like for the people then. Often the issues have meaning in modern times even if the details of those issues don't.
One Came Home tells the story of Georgie, who at 13 years old expects that when she grows up she will take over running the general store her family owns and settle into life in the tiny town of Placid. She doesn't understand why her older sister Agatha doesn't have the same dream. Agatha loves books and would like to go to the university at Madison.
When Agatha runs off, the sheriff sent to find her returns with an unidentifiable body in Agatha's dress. While everyone else believes Agatha is dead, Georgie refuses to think so, and she sets off on a journey of her own to find her sister.
To solve the mystery about her sister, Georgie will have to draw upon her ability to get people to open up to her as well as her skill with shooting a rifle. In the end, she learns a lot about herself as well as many people around her.
Underlying Georgie's story is the historical event of one of the largest passenger pigeon nestings in the U.S. It really happened in Wisconsin in 1871, and Timberlake effortlessly weaves facts about this phenomenon in with Georgie's life. It's all the more fascinating as passenger pigeons are now extinct.
Some of the problems in the book arise because communications were not instant in the 1870s as they are today, and crime forensics was not advanced. Comparing the two eras and how they may have produced a different story would be a good topic for discussion. Georgie also learns a lot during the story as she begins to see situations from others viewpoints as well as her own. This would also make a good topic of conversation in a book club.
One Came Home brought out issues of family trust, loyalty and fierce determination while immersing me in a bygone era. I highly recommend it for mother-daughter book clubs with girls aged 9 to 12.
The author provided me with a copy of this book in exchange for my honest review.