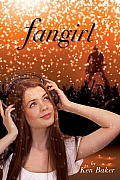 Josie is a normal 9th grader who can't wait for summer to arrive. She loves to write songs, hang out with her best friends Ashley and Christopher, and obsess over her favorite singer, Peter Maxx.
Peter is 16 and would like to have a normal life. Most people imagine his life as a teen pop star is all glamour, but the truth is, he's exhausted half-way through a 40-concert tour that has him constantly in the spotlight.
When Josie and Peter meet by chance when he stops by her high school to give an award in a video contest, the sparks fly. But can a teen star expect to have a normal relationship with a regular girl?
Fangirl by Ken Baker goes back and forth as it tells the story from both Josie's and Peter's perspective. Josie is kind of shy and writes lyrics when she's trying to make sense of the things in her life. And with her parents' recent divorce it seems like a lot of things don't make sense. Peter struggles to stand out as a person, not just an icon. His dad, who sees fame as something fleeting to be  pursued while the iron is hot, pushes him to perform.
Fangirl is every girl's fantasy—what girl wouldn't want to get to know the famous celebrity she has a crush on—but it's also interesting to read about how Josie stays true to herself despite the pressure she feels to act in ways that Peter will like.
Moms who read this with their daughters may need an interpreter to figure out the abbreviations in the text messages that go back and forth between Josie and Peter, but it's still fun to read. Girls aged 12 to 14 will especially like Fangirl.
The publisher gave me a copy of this book in exchange for my honest review.