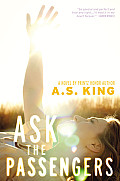 A. S. King, author of Everybody Sees the Ants and Please Ignore Vera Dietz isn't afraid to write about big issues facing teens, including bullying, domestic abuse and alcoholism. With her latest book, Ask the Passengers, King delves into the issue of sexual identity and what defining it means not only to the teen, but to the people surrounding her as well.
Astrid Jones is the main character who retreats to her backyard picnic table when she wants to escape the tension in her life. Lying there she focuses on sending her love to passengers on passing airplanes. It's her way of holding everything together until she graduates high school and escapes the whispers and secrets that come with living in small town, Unity Valley.
And Astrid has a lot of secrets to keep. Her mom is a control freak who favors Astrid's younger sister Ellis and criticizes Astrid. Her dad smokes pot and mostly refuses to be pulled into the conflict. Astrid's best friend and next-door neighbor, Kristina, is lesbian, and she dates a popular guy at school who is gay because they give each other cover.
Astrid herself thinks she may be attracted to her co-worker Dee, but she's not sure if that makes her a lesbian or just confused about what she wants. When an unexpected event tears away the layers Astrid has built around herself, she finally has to decide who she is and how she must go forward.
Ask the Passengers delves into the philosophical as the story follows Astrid on her journey of self-discovery. She wonders why everyone expects her to say outright that she's not heterosexual when she's not even sure herself. People thins she's lying when she says she doesn't know.
Everyone in Astrid's high school seems to have an opinion about who's okay to date and who's not, and hate messages against gays are scrawled on classroom bulletin boards, so she knows if she makes a statement about who she is it's more than a casual declaration. Astrid finds that she's testing the bounds of friendship and learning a lot about people closest to her as well as casual acquaintances through this one issue.
The small stories interspersed about the reactions of passengers on airplanes who receive Astrid's love are interesting too. They offer little snippets into multiple issues people deal with on a day to day basis. Ask the Passengers offers a lot for discussion both on what Astrid is facing and what the passengers resolve about their lives. I recommend it for ages 15 and up.
The publisher gave me a copy of this book in exchange for my honest review.