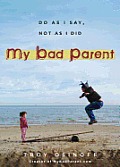 My Bad Parent: Do As I Say, Not As I Did by Troy Osinoff has to be seen to be believed. Osinoff has collected photographs of parents doing questionable things with their kids. Some seem staged to be funny, like the smiling child with the diaper over her head, while others are candid shots where the parents seem to have no clue that they are doing anything wacky to their kids.
Many photos fall into the latter category, including kids riding on motorcycles and kids with guns. Osinoff has grouped the photos into chapter-like categories and added comments. Some you'll find down right funny, while others will have you shaking your head and calling for a child license to be issued before anyone can get pregnant.
My Bad Parent is a great book to leave out as a conversation starter at your next party or as a gift to expecting parents. For more fun you can visit Osinoff's website, My Bad Parent.com.
The publisher provided me with a copy of this book in exchange for my honest review.