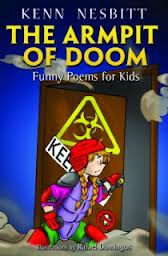 Kenn Nesbitt knows how to make kids laugh while getting them to read poetry. His newest collection, called The Armpit of Doom: Funny Poems for Kids, continues that tradition with 70 new poems.
Featuring illustrations by Rafael Domingos, The Armpit of Doom is titled after the opening poem about a girl who walks into her brother's bedroom and encounters a smelly surprise. Other poems are about kids who eat paste, don't want to go to bed and even write their own poems. Here's an excerpt from that one, called "I Wrote an Awful Poem."
"I wrote an awful poem;
it was bad in the extreme.
I showed it to my sister
and it made my sister scream.
I never knew a poem could be
such amazing fun.
But that was just a blast,
I think I'll write another one."
Some poems made me chuckle, others made me laugh out loud. I expect it will be a hit with kids who like taking an irreverent look at the world around them. And if you read The Armpit of Doom with your kids, it could inspire you both to take a stab at writing your own funny poems.
The author provided me with a copy of this book in exchange for my honest review.