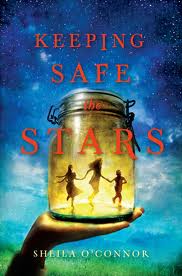 Since their mother died, the Star children have lived with their grandpa, Old Finn. The family keeps to itself on the family farm Old Finn refers to as Eden in rural Minnesota. But when Old Finn develops an infection that sends him to the hospital in Duluth, 13-year-old Pride is left in charge of the farm and her siblings, 9-year-old Nightingale and 6-year-old Baby.
But even a self-sufficient teenager can't run a household with no money and no transportation. When the kids start to attract attention from neighbors and concerned adults, they know they must find a way to reach Old Finn and find someone who can be in charge to keep them safe before the state takes them into custody.
Keeping Safe the Stars by Sheila O'Connor shows that even smart, capable kids are vulnerable when the adults they depend on experience unexpected illness or injury. After suffering the tragedy of his daughter's early death and fighting to gain custody of the children, Old Finn is understandably reluctant to invite other people into their circle.
Yet one adult in charge is a thin thread to keep a family together, as everyone discovers when Old Finn goes away too. It takes ingenuity from all three children, help from neighbors and others in the community, as well as a bit of kindness from strangers to find a solution. Reading about the Stars and their situation is certain to provoke thoughtful discussion of the safety net parents can put into place to care for their own children in the event of the unexpected.
Keeping Safe the Stars is a compelling story that will stay with you long after you finish the last page.
The author provided me with a copy of this book in exchange for my honest opinion in this review.