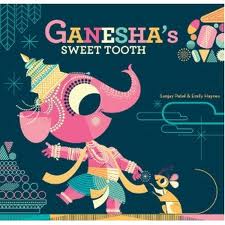 Ganesha is a Hindu god who can't get enough sweets. His love of candy leads to tragedy when he breaks a tusk on a jawbreaker. Ganesha despairs about his strange looks until the poet Vyasa finds a purpose for the broken tusk: writing down the long story of the Mahabharata.
Ganesha's Sweet Tooth, which was written by Emily Haynes and illustrated by Sanjay Patel, is an explosion of color and images that will keep your kids searching the drawings for subtle clues to the story as they turn the pages.
Patel is an animator for Pixar Animation Studios, and has worked on films such as A Bug's Life, Toy Story 2 and Ratatouille. His illustrations of fun-loving Ganesha as a child who loves sweets, will surely strike a chord with youngsters who like to eat sweets too. While the story of Ganesha and Vyasa is a classic tale from India, here it's reimagined with a young Ganesha who has a friend, Mr. Mouse.
Ganesha's Sweet Tooth is so much fun you'll want to read it again and again. A pronunciation guide in the back helps with a few unfamiliar words. I recommend it for ages 4 and up.
The publisher provided me with a copy of this book in exchange for my honest review.