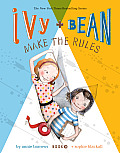 Ivy and Bean fans can rejoice at the new title in the series, Ivy + Bean Make the Rules.
Bean thinks it's not fair that her sister Nancy gets to go to Girl Power 4-Ever summer camp while she is only old enough to sign up for Puppet Fun! At seven, she's not a baby anymore, and she wishes others would realize that too.
But Bean doesn't want to just stay home moping around while Nancy has fun all day, so she's excited when her mom says she's old enough to walk to the park with Ivy. That's when the fun really begins, as together Bean and Ivy create their own summer camp of fun.
 Ivy + Bean Make the Rules shows how much fun kids can have and how creative they can be when they have unstructured time to play. While Ivy and Bean don't create a traditional summer camp, they do invent something that other kids have fun with and they end up learning new skills and growing their self-confidence along the way. It's a great message for young readers to get.
Here's the book trailer to watch on YouTube: www.youtube.com/watch?v=nmMWa4qMqDM&feature=youtu.be
The publisher provided me with a copy of this book in exchange for my honest review.