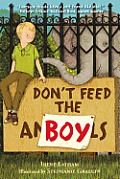 Today I'm excited to be participating in a blog tour for a new book by author Irene Latham. It's called Don't Feed the Boy, and it's a great book for mothter-daughter book clubs with girls aged 8 to 13. This one is also good for boys to read as well.
You'll also want to check back in tomorrow, when Irene Latham stops by Mother Daughter Book Club. com for an interview where she talks about her writing and some of the issues brought up in Don't Feed the Boy. And, you may also want to check out her next stop on the tour, which is also tomorrow, Green Bean Teen Queen.com.
Here's my book review:
Lots of kids probably dream of living the life 11-year-old Whit lives: his parents care for the local zoo, and he lives on the property with them. But life with the animals isn't always so great. For one thing, Whit has a tutor, which means he doesn't go to the local school and he doesn't get to meet other kids. Also, his parents seem to care more for the animals than they do for him, and he has strict rules that don't even allow him to leave the property.
Then one day he meets a girl named Stella who has been coming to the zoo to draw the birds every day since summer started. When the two become friends, Whit finds himself breaking all kinds of rules just so he can spend time with her. And when he finds out that her situation at home is pretty scary, he wants to help her. He's just not sure how.
Don't Feed the Boy by Irene Latham looks at the helplessness children can feel when the adults in their lives don't responsibly care for them. Whit's parents are certainly loving, but they also expect that he can be on his own without need of friends or much interaction from them. Stella's parents are facing such huge issues of their own—chronic pain, prescription drug addiction, tight finances—that keeping Stella safe is not a priority. Both kids want to do what's right, but they are only 11, and sometimes they don't know what that is.
Throughout, Latham does a great job of keeping Whit's and Stella's thoughts and actions true to their age. The behind-the-scenes perspective of the zoo is interesting too, and facts about the animals and efforts to care for them are seamlessly woven into the overall story. It should give you a few things to think about the next time you visit your own local zoo. Don't Feed the Boy is full of great issues to discuss, and I recommend it for mother-daughter book clubs with girls aged 8 to 13.
The author provided me with a copy of this book in exchange for my honest review.