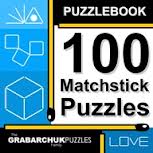 If you like puzzles, you'll be sure to enjoy the new puzzle book from the Grabarchuk family, 100 Matchstick Puzzles. I've enjoyed working on matchstick puzzles in the past, but this new book comes with a lot more designs and ideas for puzzles than I've worked before.
While the puzzlebook comes only in a digital format you can play on a Kindle (which I downloaded to my Mac as I don't have a Kindle reader), you can make it hands on by keeping your own stack of matchsticks, or toothpicks, handy to recreate the puzzles and manipulate them before coming up with a solution.
This is the kind of stuff I would spend hours on if I didn't have the discipline to tear myself away after a few puzzles and come back later to play some more. The puzzles help promote spatial skills, which is certainly a good thing, but they are also a lot of fun.
The publisher provided me with a copy of this book in exchange for my honest opinion in this review.