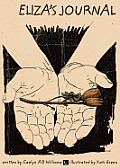 When Eliza leaves California for Washington state's San Juan Islands for the summer, she's not sure what to expect. Her parents are working in Florida, and her aunt and uncle live on Orcas Island, a beautiful place that Eliza takes to right away.
Her dreams of a lazy summer among the fir trees vanishes when her uncle insists she find a job. She ends up working for the eccentric Mr. Tanner, who puts her drawing skills to use illustrating the fossils and other natural history items he owns.
Although Liza thinks there is something strange going on at Mr. Tanner's house, at first she ignores it because she likes being around his grandson, Charlie. But as weird happenings multiply, she sets out to solve the mystery of what the Tanners are actually up to. What she discovers is something wholly unexpected.
Eliza's Journal, written by Caelyn AB Williams and illustrated by Kati Green is part romance, part mystery and part travel promotion for the San Juan Islands. As the name implies, it's written as though Eliza is making entries in her journal, so we see the story unfold as she recaps her days. Illustrations go along with the entries.
As she draws, Eliza also learns about the specimens she is given, and a handy guide at the font of the book helps readers keep the geologic timeline straight.
While I was bothered by Eliza's seeming lack of a relationship with her parents (who don't take her along for the summer and apparently don't even call to check in on her), I was happy to read along as Eliza explored the island and worked to solve the mystery. Eliza's Journal also made me want to plan a summer vacation on Orcas Island, which is almost like another character in the story.
The publisher provided me with a copy of this book to review.