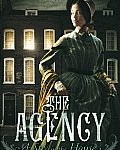 Here's another great review by guest reviewer and author Christina Hamlett
authorhamlett.com
.
Reviewer: Christina Hamlett
Title: The Agency 1: A Spy in the House
Publisher: Candlewick (2011)
Whenever a new mystery series comes out, I sometimes make the mistake of reading them out of order and then feeling like a total doofus. If I had to make that mistake this time around, though—and I did—reading the second book in the Y. S. Lee trilogy first actually allowed me to enjoy the details of the first installment even more. As of this writing, I am completely immersed in the third and already not wanting the page-turning adventure to end.
Author Y.S. Lee does an incredible job of capturing both sides of Victorian life through the eyes and ears of her intrepid heroine, Mary Quinn. Rescued from the gallows by mysterious lady benefactors who run an academy for young girls, the former pickpocket is subsequently trained to redirect her backstreet talents to much worthier pursuits; specifically, the exposure and capture of the city's wrongdoers. It's not just the latter, however, that have plentiful secrets to hide.
When an unexpected romantic interest stirs Mary's heart and imagination in ways she had not thought possible—and this book contains a delightful "cute meet" in a wardrobe—she is as much torn by keeping the confidences of the agency that reinvented her as she is frustrated that a revelation of her family origins will jeopardize any chances for a secure future.
The snappy exchanges between Mary and James are the stuff of sitcom gold, and the evolution of the supporting players under Mary's watchful scrutiny is entirely plausible given the strict mores of the time and the social suppression of the fairer sex.
This novel is a must-read for anyone seeking a well researched story, a charmingly watchable lead character, and a pulse-pounding plot with definite film potential written all over it.