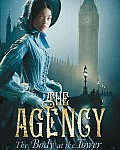 Here's a guest book review from author Christina Hamlett
Title: The Agency: The Body at the Tower
Genre: YA Mystery
Author: Y.S. Lee
Reviewer: Christina Hamlett
Publisher: Candlewick (2011)
Where was author Y.S. Lee back in the days when I was reading Nancy Drew mysteries? All right, the answer is probably that she wasn't even born yet. Her plucky teen heroine, though, could easily be Nancy's counterpart over a century ago and an ocean away. She's smart, she's observant, she's quick on her feet – all of which are crucial attributes if she hopes to stay one step ahead of the people who are trying to kill her in order to hide their shady schemes. Lee's historical research is very much in evidence here, and the detail with which she describes the stench, squalor and seamy side of the story's dismally Dickensian backdrop can almost make you smell it off the page.
For openers, all is not as it seems at Miss Scrimshaw's Academy for Girls in 1850's London. Behind its doors, a pair of shrewd and intrepid females (I'm picturing Judi Dench and Maggie Smith) has been training young ladies to be undercover detectives, seamlessly blending into a male-dominated world in which the fairer sex can move unnoticed amongst the city's diverse denizens and, thus, hone their investigative skills.
In Book 2 of Y.S. Lee's pulse-pounding trilogy, star student Mary Quinn has donned the disguise of a 12-year-old orphan in order to observe the goings-on at the clock tower worksite of the Houses of Parliament. As "Mark," Mary's role is to eavesdrop on conversations that could reveal whether the recent death of one of the workers was an unfortunate accident or a murderous cover-up. In order for her gender charade to be effective, however, the teenage Mary must forego the regular comforts of a soft bed, scented baths and nourishing food and revert to the perilous lifestyle that earned her a death sentence when she was not much older than the lad she is pretending to be.
Her latest assignment also reunites her with James, an earlier love interest she thought she had successfully put out of her heart and out of her mind until his unexpected appearance at the crime scene. The realization that absence has indeed made the heart grow fonder not only threatens to derail her focus but expose her identity as well. Complicating her investigation is the smarmy, sleazy presence of Octavius Jones, a gutter-press journalist with his own agenda and a creepy habit of showing up an inopportune times and asking just a tad too many questions.
Y.S. Lee's talents as a raconteur make this book an ideal candidate for film. Further, Mary brings to the table a heritage that is half Chinese and half Irish, a mix that not only defines her exotic features but also challenges her psychologically; where, exactly, can she "properly" fit into a Victorian society that already diminishes her value because of her sex and would aggressively condemn her existence as the child of a forbidden relationship.