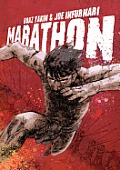 The run that gave the marathon race its name was actually part of a much longer trek that the runner was making to save Athens from an invasion by the Persians. The graphic novel Marathon, by Boaz Yakin and Joe Infurnari tells the story of the runner, a former slave named Eucles.
Eucles was granted his freedom as a boy when he was allowed to compete in a race with other free children. When he won, the king's illegitimate son paid a terrible price. And when Eucles was granted his freedom, it came at a cost: the threat to perform well always as a messenger or sacrifice his parents. He came to hate the king who made the pronouncement.
When Eucles grew up, he became known as one of the most reliable of messengers, and his skills were put to the test when the Persian king sent an army to conquer Athens. Eucles ran to ask for help from Sparta, back again and then onto the battlefield. His amazing journey is the stuff of legend, and a great topic for a graphic novel. With flashbacks to the past and gripping scenes of the battle, Marathon is an adventure that races along.
The publisher provided me with a copy of this book to review.