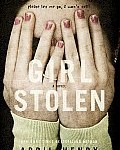 Griffin wasn't looking to kidnap a girl. He only wanted to steal a car. But Cheyenne was sleeping in the back as she waited for her stepmom to fill a prescription to treat Cheyenne's pneumonia. Once he realized what he had done, it was too late to put Cheyenne out. When Griffin finds out Cheyenne is blind, he thinks his problem is solved. He figures he can drive the car to his dad's house, take Cheyenne somewhere far away, and leave her to be found. But he doesn't count on the fact that Cheyenne's father is wealthy. Or that once his dad found out, he would ask for a ransom.
Girl, Stolen by April Henry is a thriller told through the eyes of 16-year-old Cheyenne and her accidental kidnapper, Griffith. Cheyenne has been through tragedy before. Her mother was killed in the car accident that left her blind three years before. Griffith comes from a rough family. His father steals cars and sells their parts, and his mother left years before. The two are worlds apart, and yet, as they get to know each other they realize they may each be the other's best chance of escaping their current situation.
The story goes along at a fast pace as the tension mounts. Cheyenne runs through scenarios on escaping to keep herself safe. Griffin sees the life he leads through her eyes, and it's not a pretty sight. I admired Cheyenne's tenacity, and I ached for the situation Griffin found himself stuck in. Henry expertly wove in details and added plot twists that kept me wondering how things would turn out. I enjoyed Girl, Stolen to the last page, and I recommend it to mother-daughter book clubs with girls aged 14 and up.
I bought a copy of this book to read for my book club.