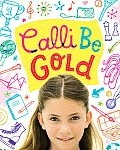 Calli feels as though she's the only one in her family who is not a super achiever. Her brother excels at basketball, her sister skates and her parents are busy getting them to practices and games and cheering them on. As the youngest, Calli often feels she gets no attention because she's average and happy to be that way. But when her fifth grade class is paired with a group of second graders as part of a Peer Helper Program, she may just find something she is happy to excel at.
Calli Be Gold by Michele Weber Hurwitz is sure to strike a chord with both moms and daughters. Calli's mom never has a spare moment, rushing from one event to another with post-it notes stuck to her steering wheel to help her remember where she's going. Her dad pushes all the kids to be super achievers, and he asks them each to report on their accomplishments every night at dinner. The portrait is of a family so busy doing, they don't have time to relax. That lifestyle is bound to be familiar to many readers.
Calli has to figure out how to let her family know that she doesn't want to jump onto the merry-go-round of activities. The family dynamic is complicated by the fact that both of her parents didn't get to achieve things they wanted when they were children, so they are determined that their own kids won't have similar regrets.
Calli's relationship with Noah, the second-grader she works with for the Peer Helper Program, helps her see what's really important and find a way to let everyone else know how she feels. Noah faces challenges of his own, and as she gets to know him better, she realizes what her own strengths are.
Mother-daughter book clubs with girls aged 9 to 13 will have a lot to talk about after reading Calli Be Gold. They can talk about the things they like to do and what motivates them to do those things. They can talk about the difficulties and challenges family members sometimes face when communicating with each other. Also, there are issues with Calli and her friends at school, as well as with Noah, that should provide for interesting discussion. I highly recommend it.
The author provided me with a copy of this book to review.