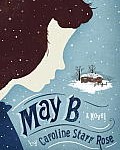 Mavis Elizabeth Betterly, or May B., has been hired to help at a neighbor's farm. On the Kansas prairie that means the neighbor is 15 miles away and May will be there from August until Christmas. She doesn't want to go, she'd rather stay in school, but her family needs the money her work will bring.
When the neighbor's new bride decides she can't handle life on the prairie any more, she leaves, and the neighbor goes after her. Neither returns. Left alone, May must fend for herself for months without any expectation that someone will come for her. As the days and weeks pass, she searches inside herself to discover who she is and what she will be when she rejoins her family.
May B. by Caroline Starr rose is a story about pioneer life and one girl's determination to make more of herself than people expect. May struggles with dyslexia, and she can't understand why words don't always make sense to her. She knows she's smart, and she wants to continue her education to be a teacher one day.
Through her reflections the reader finds that May had the advantage of an early teacher who encouraged her and helped her with her reading. But the teacher who replaced her wasn't so kind. She looked for ways to humiliate May and make her feel that she is stupid.
Spending months alone, feeling that her family doesn't believe she can achieve any more in school, May struggles with the question. Is she smart, or is there something wrong with her? Can she go on to achieve what she wishes for, or should she just give up trying to overcome the hardships all around her?
Told in verse, May B. will steal your heart and leave you happy you didn't live in a sod house on the Kansas Prairie. I recommend it for mother-daughter book clubs with girls aged 8 to 12.
The author provided me with a copy of this book to review.
Save
Save