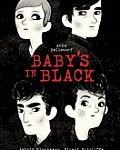 Before the Beatles became the sensation they are known as today, they were playing in dingy bars in Germany, trying to get by on cheap food and free places to stay. The people they met there, including photographer Astrid Kirchherr, would become significant influences on their look and their work.
Baby's in Black: Astrid Kirchherr, Stuart Sutcliffe, and The Beatles in Hamburg, a graphic novel by Arne Bellstorf, tells the story of those weeks and months in Germany, and the challenges the band faced in breaking out of the places they were playing and moving into better known venues. At the time, Stuart Sutcliffe played bass for the band, and he and Astrid were interested in each other soon after they met.
Astrid and Stu's story provides the backdrop for other events in The Beatles' early days while shedding some light on how the band members got their signature hair styles and more. The black and white images are compelling; I could almost smell the cigarette smoke that was so prominent everywhere in those days.
While I was a bit confused at the end and had to reread several pages to make sure I understood, overall I thought Baby's in Black was thoughtful, interesting and provided insight into The Beatles as well as Astrid and Stu, two young people driven by their art and their love for each other.
The publisher provided me with a copy of this book for review.