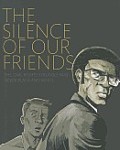 Houston in 1968 was a volatile place with strained relations between blacks and whites. Schools were integrated just a few years before and the unrest there reflected much of what was happening in other parts of the country as well. Into this fray enters the white family of a television cameraman who makes friends with a black activist who was editor of an anti-poverty weekly.
The Silence of Our Friends, by Mark Long, Jim Demonakos and Nate Powell is based on the real life story of author Long's father, who was the cameraman, and the events that took place around a protest that led to a police officer's death and the trial of the men arrested for it.
The black and white images in this graphic novel reflect many things from the era: television was in black and white, blacks and whites held preconceived notions about each other, and race lines were usually drawn so that you were either for or against one side or the other. Children often see things as their parents do, and this book is particularly poignant when it shows the children of both families interacting with each other and with others in their own neighborhoods.
The simple act of a white family inviting a black family to dinner, or vice versa, was unheard of, and breaking the unwritten code could be dangerous. The title of the book is taken from the Dr. Martin Luther King, Jr., quote, "In the end, we will remember not the words of our enemies…but the silence of our friends." It is a fitting title, and the book challenges readers to really consider the courage it takes to speak up in a place where everything encourages you to keep silent.
I recommend The Silence of Our Friends for ages 14 and up.
The publisher provided me with a copy of this book for review.