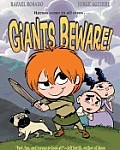 Claudette has heard the legend of how the baby-toe-eating giant was banished to the far-away mountain by the marquis of her town so he could never terrorize them again. Longing for adventure, she believes the giant should have been killed, and she thinks she's the one to do it. Together with her brother, an aspiring chef and swordmaker, and princess-in-the-making Marie, she sets off to slay the giant and make her village secure.
Giants Beware, a new graphic novel written by Rafael Rosado and Jorge Aguirre, melds the dynamics of a medieval village with the sensibilities of people today to create a new kind of fairy tale that's funny, irreverent and wholly enjoyable. As the children go about their adventure they have to face challenges from human-eating trees, a hag who wants to cook children so she can break the spell that's been put on her to ruin her looks, and a river king made of water who's searching for a princess to marry his fishy son. Each of them finds strengths they didn't know they had to come to the aid of their friends.
When they reach their destination these pint-sized heroes find something surprising that will change their view of their perceived enemy. Adults as well as children aged 8 and up will have fun reading Giants Beware. The story is cleverly told and the illustrations, particularly the facial expressions of each character, are fun to look at.
The publisher provided me with a copy of this book to review.
Save