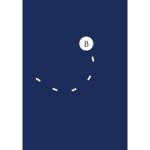 Sarah Kay has been a performing poet since she was 14-years-old. At 22, she is now a slam poet who wrote a powerful note of love for an unborn daughter.
First performed at TED (Technology, Entertainment, and Design), "B" opens with the lines, "If I should have a daughter, instead of mom, she's going to call me Point B. Because that way she knows that no matter what happens at least she can always find her way to me."
In her poem, Kay tells her daughter she will always be there to help with the heartache that is sure to come from life. She also wants her daughter to know that she should never stop believing, never stop hoping, and never stop loving. It has been called a "thank you note, love letter, wish, promise, confession, and a secret." All this from one small poem that can be read or listened to in minutes.
I encourage you to watch Kay's performance (http://www.ted.com/talks/sarah_kay_if_i_should_have_a_daughter.html), which is compelling, but you can also get a copy of the book, which will let you keep it always and read aloud to your own daughter. The slim volume includes beautiful, yet simple black-and-white illustrations by Sophia Janowitz,
The author provided me with a copy of this book to review.